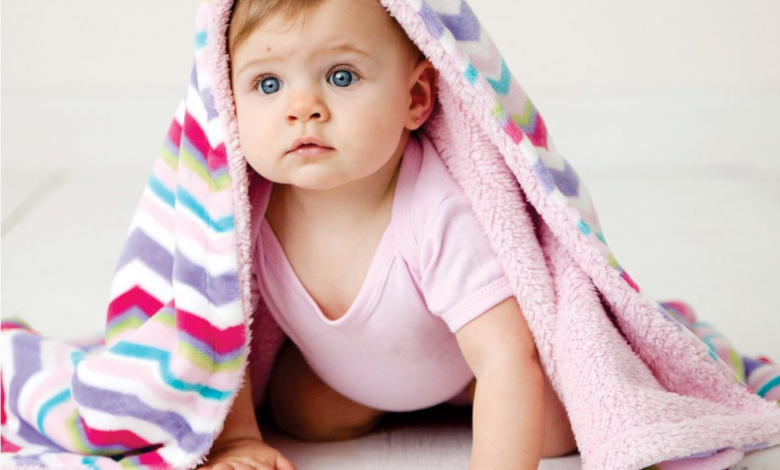 In the dead of winter, a baby winter blanket is an absolute must. A warm, skin-friendly, and comfortable blanket is ideal for keeping your baby warm throughout the cold winter nights. Baby blankets are available in a range of fabrics, but there are several considerations to consider while purchasing a baby winter blanket. Make sure your blanket has a cotton layer underneath it. Cotton is the most sensible and skin-friendly option for your infant. Synthetic or satin fabrics should be avoided because they are not suitable for a baby's sensitive and delicate skin. Soft, breathable fabrics are ideal for keeping your infant warm. To avoid tangling, avoid infant winter blankets with stripes, free ornamentation, edges, and tassels.We've produced a list of some of the greatest quality newborn baby winter blankets for the ultimate comfort to assist you in finding a soft and clean baby blanket online. Simply read the post completely and select the best online baby blankets for your little one from a large selection.
The skin of a baby is especially delicate. To keep that natural radiance and smoothness, it requires a little more attention and grooming. Don't forget to look at India's best organic baby skin care products.
Do you want to buy baby items but aren't sure which brands are the best? Check out this post to learn about and choose the best brand for your baby.
During pregnancy, pamper yourself with new, improved skin care products designed specifically for the needs of your changing skin. Here are the greatest ones that are also safe for mama and baby.
Top 10 Beautiful Baby Winter Blankets
We've included the softest and safest blankets for babies below. These types of baby blankets are ideal for babies aged 0 to 8 years and are completely safe for them. Continue reading to learn more.
1. Kaarpas Organic Cotton Muslin 3 Layered Quilt Baby Blanket with Adorable Animal of Elephant
Kaarpas is the first on our list of the finest baby blankets for winter. The cotton fabric of this prewashed blanket is gentle on the infant's skin and does not irritate it. A baby blanket in a purple color that is 120 by 120 cm in size is appropriate for 0-2-year-olds. A three-layered blanket made from 100 percent organic cotton muslin, this blanket can be machine washed and dried easily.
2. LuvLap 100% Muslin Cotton 6 Layer Baby Blanket
The LuvLap baby quilt is warm, snug, and ultra-soft, making it great for keeping your baby warm on cooler days.Has no odors and is manufactured from a long-lasting material that doesn't shrink even after washing. Playmats can also be utilized in the baby's play area if the blanket is designed in the form of an egg. This lovely baby quilt is appropriate for newborns to three-year-olds. The blanket is inexpensive, lightweight, and simple to maintain. Furthermore, Luvlap's best-selling online baby blankets are ideal for the Indian winter temperature.
3. AWSM COLLECTION Newborn Baby's Ultrasoft All Season Double Layer Mink Blanket
Keep your baby warm and protected from seasonal changes all year round with this Awsm Collection double-layer baby blanket. Besides blankets, this blanket can also be used to make baby wraps, blankets for newborns, and baby blankets for adults. The blanket comes in 18 different colours. The material used to make it is gentle and hypoallergenic, making it ideal for bub's sensitive skin. The blanket can be hand cleaned or machine washed delicately in lukewarm water.
4. Daily Home Essentials Ultra Soft Plush Baby Blankets for Boys & Girls
This organic cotton blanket from DailyHomes could be the right choice if you're looking for a soft swaddling warm blanket for your newborn. There are no zippers, velcro, snaps, or design materials on this baby swaddling blanket. As a result, this soft plush baby blanket is completely safe for your baby to sleep on. This plush blanket works well as a burp cloth, stroller cover, nursing cover, infant receiving blankets, muslin security blanket, or toddler blanket. This blanket is long-lasting, breathable, and free of dangerous chemicals. You can also use it to give as a gift.
5. Koochie-Koo Happy Time Cute Cartoon Print Light Weight Soft Cozy Baby Blanket
The blanket is ultra-soft to the touch and made of soft plush fleece blanket with velvet faux fur. A adorable white bear and various small multicolor motifs are among the cute prints.The lightweight blanket can be used for swaddling the baby as well as other purposes. In the washing machine, the blanket can be placed on delicate.This soft, warm, and sumptuous blanket is perfect for baby's delicate skin.
6. BRANDONN Fleece New Born All Season Ultrasoft Single Baby Blanket for Babies
Brandonn's best baby blankets for winter are now the best-selling baby blankets on the market. This blanket is great for the pram and cradle because it is both warm and light. It has an ultra-soft fabric with a fluffy towel feel to it. As a newborn infant blanket, it performs admirably. You'll get two blankets, one each in beige and grey. The blanket has a hooded design that will keep the baby's head warm.
7. Homescape Newborn Baby's Velvet Blanket
This could also be a great option for your infant. This wide, cosy blanket is perfect for wrapping over your munchkin. It can also be used as a shawl, wrapping, or blanket for babies. The blanket is available in a variety of colours. The adorable giraffe, monkey, and other cartoon figures and prints go well with your nursery themes. The blanket can be washed both by hand and by machine. This warm and adorable blanket might also make an excellent baby present.
8. Mee Mee Soft Baby Blanket
This double-layer Mee Mee baby blanket could be a fantastic choice for your infant if you're seeking for the top baby blankets in India that fit your budget and needs. This blanket can be used as a swaddle cloth and a baby shawl. Mee Mee blankets come in a variety of appealing designs and hues. This vibrant, fashionable, and chic blanket is appropriate for any season. Grab this blanket to wrap your newborn in comfort and warmth.
9. Fareto Babies & Kids Super Soft All Season Use Reversible Printed Comforter | Blanket
A hollow siliconized polyester filling gives this baby blanket a sumptuous feel. It's appropriate and safe for babies. This baby blanket is suitable for use in a crib or cot. Despite being long-lasting, this blanket is perfect for children up to the age of toddlerhood. There is a reversible option on the comforter. Neither the front nor the reverse of the card is the same, but both are colorful. It's also a fantastic present idea for expecting mothers or new parents.
Also check:  What is Warehouse Management System?