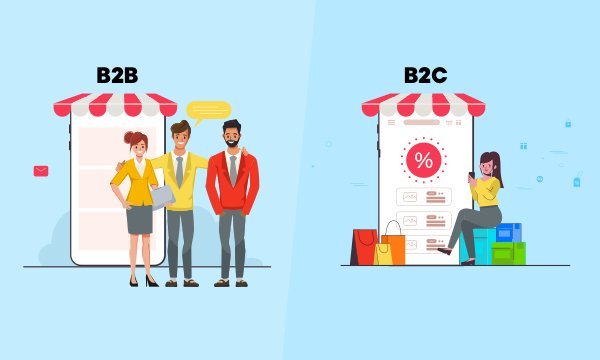 Nowadays, the difference between B2B and B2C businesses is slightly fading. Many B2B businesses also offer their products to end-users, despite being the source of the product. Moreover, the eCommerce industry has also changed the dynamics of these business models.
If you are planning to build an eCommerce business, defining your type of business is critical as it helps determine how your eCommerce website design and development would take place. So, in this article, we give 6 major differences between B2B and B2C eCommerce websites.
What are B2B and B2C eCommerce?
B2B (Business to Business) is an eCommerce model that serves other businesses. In this model, various companies, retailers, and manufacturers become customers. And they usually buy products in bulk to sell to end-users. 
B2C (Business to Customer) is an eCommerce model which sells products or services directly to end-users. These customers purchase products solely for home use and not to sell to other users.
Difference Between B2B and B2C eCommerce Websites
Knowing the difference between B2B and B2C eCommerce websites is vital, as it helps you build your site with the right eCommerce website development services. So, below we are giving the major differentiators that put these models apart.
Website Design
One of the first things a B2B eCommerce website differs from a B2C website is the design. This is because B2B and B2C buyers have different preferences when buying things online. For example, B2C customers expect catchy product images and compelling descriptions, which give an idea of what products would be like.
On the other hand, B2C customers are little knowledgeable about products as they research a lot before buying. They expect all the product information to the point and without any clutter. Therefore, your website design would differ greatly according to both these models.
Website Content
Content is a crucial element of an eCommerce website because it helps customers make purchase decisions. And B2B and B2C website content differ a lot. For example, B2B customers want to do in-depth research on products, so they prefer the content in the form of eBooks, guides, articles, videos or case studies. 
And B2C customers don't need to read in-depth articles; a product description and imagery would be enough for them. When it comes to laying out content on the website, WordPress would be a top web development platform, so hiring a WordPress developer would be a good idea. 
Read Also:  4 Things You Should Do to Succeed with your WordPress website
Product Pricing
Product pricing is an important aspect that differentiates a B2B eCommerce business from B2C one. B2C customers often purchase products for personal use, so the quantity will always remain less. In this case, the number of products customers can add to the cart would be limited. And pricing would be pre-defined unless there is a discount or offer applied.
On the other hand, B2B eCommerce would need custom pricing for each transaction. Also, in the wholesale model, when the number of items increases in the cart, the price per item lowers. Hence, setting pricing features is much more complex in B2B than in B2C eCommerce models.
Checkout Process
The checkout process is automated and much simpler in the B2C model. Users can choose various payment options and make a transaction in minimum steps. Regarding B2C website development, ReactJs is a robust platform to build your site from, as it makes everything seamless. And when you hire ReactJs developers online, things become more effortless.
The checkout process might be slightly different if we discuss B2B websites and would not involve complete automation. As B2B purchases are more complex, the checkout process consists of a blend of automated steps and human intervention whenever required.
Customer Lifecycle
The customer lifecycle is much longer in B2B businesses. So the website should be designed to support long-term relationships with customers. A B2B website should include features that nourish business-customer relationships. You may stay in touch with the B2B buyer once you get in touch with them.
On the other hand, B2C websites have shorter customer lifecycles. A B2C customer might not come back to your website after making the purchase once. Therefore, B2C buyers should focus on converting customers as early as possible by offering catchy discounts and offers.
Customer's Intention & Decision Making
In B2C, businesses are required to stimulate the emotional aspect of their customers, as transactions do not happen until customers feel the emotional need to buy the product. Moreover, B2C customers are usually single entities making the decisions, so conversion becomes seamless.
On the other hand, When B2B customers purchase things, it is due to departmental needs as opposed to the provider's encouragement to buy products. Usually, in B2B buying, there is more than one person involved in the process, which makes the process more complex than in B2C buying.
Summing Up
There is a vast difference between B2B and B2C website development processes as B2B and B2C eCommerce models differ to major extents. For example, website design, content, prices, and checkout process would be distinct in these websites.
Moreover, the customer's lifecycle and purchase behaviour will also differ. So taking all these things into consideration will help you create a robust and effective website for your business.